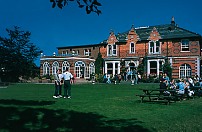 Anglolang ensures that every student has a quality English language learning experience in a stimulating and friendly atmosphere.

We offer:
Scenic coastal location in Scarborough, a leading holiday resort on the picturesque Yorkshire coast, where students will have the opportunity to meet and mix with local people
Home stay accommodation with quality families who are specially selected and live within walking distance of the school
A well-equipped, modern and comfortable school
Teachers who are highly qualified and experienced and sympathetic to the needs of overseas students
Small student-centred classes of maximum 8 people (15 in summer), grouped according to level
Modern teaching techniques and resources with up-to-date materials from authentic, audio-visual and published sources
Computers and self-access facilities on site for private study
Free internet access for all students
Courses of interest to professionalswhich include: business, management, marketing, personnel, banking and finance, English for EU project leaders, public relations, journalism, engineering and Technical English, computing, medical English, English for the military (army, navy and airforce). Anglolang is a member of Business English UK.
Teacher Refresher courses, Vocational English (e.g: catering, hairdressing) and the intensive Trinity College London Cert TESOL course for those who would like a recognised teaching qualification
Examination courses which include: IELTS, TOEIC, TOEFL,GMAT and Cambridge exams ( KET, PET, FCE, CAE, CPE,CELS and BEC.)
University preparation: the intensive University Foundation Programme. Successful completion guarantees entry to a university in the UK.
Exciting opportunities for travel to York, Manchester, Edinburgh, The Lakes and London, with organised tours in summer.