Print details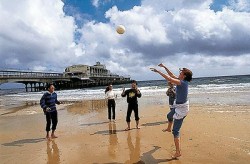 School
The four Victorian school buildings are surrounded by beautiful, private gardens. You are only ten minutes' walk away from the sea and the centre of the resort. The school complex contains 22 large, bright classrooms, a lecture room and a multimedia learning centre. A cafeteria provides refreshments and lunches, and when the weather is fine, shady corners in the large garden are perfect for reading and self-study.
Premises
Resources
22 classrooms
Learning Centre
Language Laboratory
Computer Room
Interactive Whiteboards
Lecture Hall
Cafeteria
Extensive gardens
WIFI
Guaranteed Quality
Quality is our primary concern, and we tell you exactly what you can expect from us.
Learning success thanks to innovative course programmes
Above-average success rates in examinations
Careful selection and regular checks of host families
Two to three qualified teachers per class
Small classes (from 10 to 14 participants)
Accurate placement within individual classes as a result of spoken and written placement tests
First class school buildings in central locations
Quality control through regular internal checks, plus regular inspection from national authorities (for example British Council), and from the international quality organization EAQUALS
City
Bournemouth has been recently voted the top seaside resort in the UK. In addition there is the surrounding Dorset countryside with beautiful coastal walks, as well as the picturesque New Forest. Students are encouraged and helped to make the most of their leisure time with us in and around Bournemouth.