Print details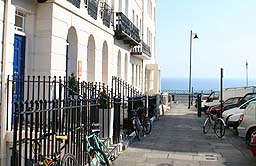 Brighton is a trendy, youthful and energetic city to rival its big brother to the north: London. It's no surprise then that Brighton has become a centre for English language schools.
At EC Brighton English language school we know that you have a special reason why you learn English. It's our role to help you reach your goal. Our English courses, make it possible for you to achieve your aims, through a teaching curriculum which focuses on improving your speaking, listening, writing and reading skills. Our first step is to assess the English level that you have when you arrive. We'll then place you in a class with students of a similar level, usually, from many different countries. We use your current English level as the base on which we will build. We'll show you how to quickly access and activate your English – making passive knowledge active. Then, our friendly teachers, using a variety of classroom activities, will increase your English speaking confidence and enable you to speak more fluently, and with greater accuracy. You will find our lessons to be challenging, yet enjoyable. You learn English better when are relaxed and having fun. That's why our teachers create a positive classroom environment, where you feel comfortable speaking; letting your teacher correct your mistakes and furthering your English ability. At EC Brighton we guarantee that if you fully participate in lessons, completing assigned tasks, your English level will improve.
EC Brighton has workshops and social programmes for you to continue to learn English and practice after class. We encourage you to make the most of your time in Brighton, speaking English all the time!