Print details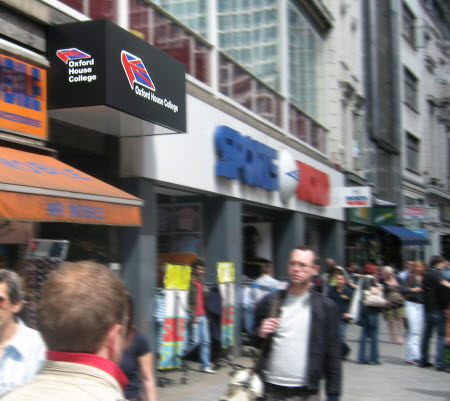 Oxford House College
Welcome to Oxford House College, London. The College has a superb, central location and is known internationally for the quality of its teaching. We offer a wide range of courses, together with a professional and caring service to all our students, and great value for money.
The College
The College is in a modern, well-appointed building with bright classrooms, an extensive library, spacious computer suite, free Internet access, and a delightful Student Café. It is very near to public transport and the capital's major tourist attractions. Oxford House College, London is the largest school in the Oxford House College group.
In the UK, the College also has teaching centres in the university city of Oxford and in Shakespeare's birthplace, Stratford-upon-Avon.
Quality
The College is accredited by the British Council, the British Accreditation Council and EAQUALS. We are also a member of the Education UK Partnership and EnglishUK.
Teachers
Oxford House College teachers are professionally qualified and experienced in teaching English at every level, including preparation for life, work or university.
Courses
Students can choose from a wide range of accredited English courses. We also provide university courses, professional training courses and vocational training courses, which may include English language support.
English courses include: General English; Conversation and Pronunciation; English for Business Success; Introduction to IELTS ; IELTS Examination Preparation; International Foundation Year; Pre-Master's; Cambridge ESOL FCE, CAE and CPE Examinations; Intensive English; Writing Skills and Overseas Teachers of English short courses.
University, professional and vocational programmes include British university undergraduate and postgraduate degree courses, including MBA; computing & IT, hotel and hospitality management; Virgin Atlantic Airline Fares & Ticketing, cabin crew and airline passenger service agent and airline computer reservation systems (GDS).
Accommodation
Choose from homestay, hostel or summer university residences. Single or shared rooms are available with various catering options.
Social Programme
Activities change every week and include student parties, film evenings, live concerts, sports events, street carnivals, walking tours and weekend excursions.
See also our FURTHER AND HIGHER EDUCATION courses