Discovery Summer
Winchester College - Pre-University (14-17 years)
« Back to School Enquire about this Course Visit School Website »
Availability
Jan
Feb
Mar
Apr
May
Jun
Jul
Aug
Sep
Oct
Nov
Dec
Accommodation Residence
Price Range £1,500.00 per week
Price Includes Tuition, full board accommodation, full social programme 7 days a week, 2 excursions per week, laundry, medical and travel insurance, return airport transfers
Beginners Not for beginners
Class Size 16 maximum
Course Length 1 weeks - 3 weeks
Town / City & Region Winchester , South Central England
Tuition Style Group
Tuition Hours Per Week 22.5
Ages 14 - 17
Course Type Junior
Other Information
Winchester College lies just outside the historic walls of Winchester. Founded in 1382, it is one of Britain's leading academic independent schools. Winchester is 100km south west of London and approximately 1.5 hours by road from London Heathrow and Gatwick. The historic buildings offer a tranquil environment in private and secluded grounds. Lessons take place in and around the campus or e.g. at the nearby Pilgrims' School and in the Cathedral Close, a five-minute walk away.
Pre-University programme for upper-intermediate to proficiency level students
A challenging programme to help you prepare for future university and career choices
22.5 hours' tuition per week
Each week students choose one Major and one Minor
Majors (13.5 hrs per week) Business and Economics, Drama, Film-Making, IELTS/Academic English, International Relations, Advanced STEM
Minors (6 hrs per week) Creative Writing, Cultural English, Debate, Digital Photography, IELTS Speaking & Listening, Politics, Applied Maths, Philosophy
Weekly Workshops (3 hrs) enhance the academic programme e.g. international trade simulations, Science centre trip
Activities include art & design, music, sport and team challenges - all of which encourage students to explore British culture, learn new skills and develop confidence
Evening activities: Talent shows, casino night, murder mystery, discos
2 excursions per week e.g. Bath (Fashion Museum, Roman Baths), Corfe Castle, London (architectural workshop, West End musical), Oxford (college visit, guided walking tour, punting), Thorpe Park
Responsible students may go out in small groups on some afternoons to explore Winchester
Free arrival/departure transfers for Heathrow and Gatwick airports
Plus: Lots of opportunities to practise English with our English Student Hosts
To find out more go to www.discoverysummer.co.uk/winchester.php
You can view videos of Pre-University Programme in action.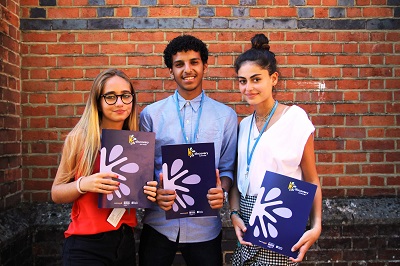 « Back to School Enquire about this Course Visit School Website »