Discovery Summer
Global Young Leaders - ACS Cobham, 12-16 years
« Back to School Enquire about this Course Visit School Website »
Availability
Jan
Feb
Mar
Apr
May
Jun
Jul
Aug
Sep
Oct
Nov
Dec
Accommodation Residence
Price Range £1,430.00 per week
Price Includes Tuition, full board accommodation, full social programme 7 days a week, 2 excursions per week, laundry, medical and travel insurance, return airport transfers
Beginners Not for beginners
Class Size 15 maximum
Course Length 2 weeks - 4 weeks
Town / City & Region Cobham, Surrey , South East England
Tuition Style Group
Tuition Hours Per Week 22.5
Ages 12 - 16
Course Type English Plus (other subjects)
Other Information
ACS Cobham is located close to London on a private estate surrounded by beautiful countryside. This impessive international schools sits within a secure 50-hectare campus with excellent facilities for study, creative activities and recreation. The boarding houses offer accommodation of hotel standard. Heathrow and Gatwick airports are 45 minutes away.
The Global Young Leaders programme runs for 2-4 weeks and combines English, Young Entrepreneur, STEM/Practical Science, Presentation Skills/Debate
This programme runs for 2-4 weeks (45 hours tuition per weeks)
Levels: intermediate to advanced (B1 - C1)
Enrichment workshops e.g. code breakng ehance and complement the academic programme
Impressive campus used as an extension of the classroom e.g. pond dipping, stargazing, survival skills
Guest speakers (e.g. Science Demo Workshop) reinforce the importance of evidence-based thinking and decision-making
2 excursions each week e.g. London (Thames river cruise, West End musical), Hampton Court Palace, Kew Gardens, Oxford (guided walking tour, museums, punting), Thorpe Park, Winchester (Science Centre), Warner Bros Studios (Harry Potter)
A wide range of activites are offered each week on Cobham's amazing campus! Choose from sports, art and design activities, team games and weekly campus challenges.
Plus: Lots of opportunities to experience British culture and speak English with our English Student Hosts!
For more information see: www.discoverysummer.co.uk/cobham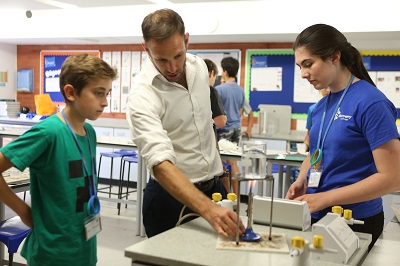 « Back to School Enquire about this Course Visit School Website »