University of Oxford Department for Continuing Education
English Language Teachers' Summer Seminar
« Back to School Enquire about this Course Visit School Website »
Availability
Jan
Feb
Mar
Apr
May
Jun
Jul
Aug
Sep
Oct
Nov
Dec
Accommodation Residence
Price Range £710.00 per week - £1,215.00 per week
Price Includes Tuition, accommodation, meals, social programme
Beginners Not for beginners
Class Size 14 maximum
Course Length 2 weeks
Town / City & Region Oxford , South Central England
Tuition Style Group
Tuition Hours Per Week 21.0
Ages 21 - 99
Course Type Teachers
Other Information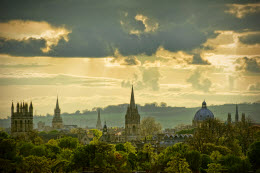 University of Oxford
English Language Teachers' Summer Seminar
Welcome to the University of Oxford English Language Teachers' Summer Seminar 2019 which offers you a first class professional development experience in one of the University's oldest colleges (pictured above). The Seminar is uniquely structured to give you a learning and study experience like no other as you discover for yourself what it is like to study and live in an Oxford college. From your welcome reception in the Master's Garden to the final gala dinner in the splendid surroundings of Exeter College dining hall, the memories of your course will remain with you for many years to come.
Participant numbers are strictly limited to a total of 65 so early application is advisable.
Summer Seminar Structure and 2019 Workshops
Your day begins with a stimulating and informative plenary lecture and is followed by two highly practical workshops. We offer five different workshops each week. When you enrol for the course, you will be asked to choose two workshops from our Week 1 options and another two from our Week 2 options. This means that you will attend one morning and one afternoon workshop each week. This gives you a chance to discover and explore new areas in ELT which you have perhaps not had the chance to focus on before. Each workshop is made up of five 90-minute sessions. Workshop topics for 2019 are:
Week 1: July 29 - August 02
Imaginative Teaching in the Creative Classroom
Exploring Grammar: Words, Clauses, Sentences and Beyond
Teaching Pronunciation and Fluency with Confidence
Motivating the Unmotivated
Teaching in a Digital World - Dealing with Digital Literacy
Week 2: August 05 - 09
How to be an Expert Listener in English
Aspects of Contemporary English: Teaching a Changing Language
Task-based Learning (TBL) for English at University Level
Using Contemporary Literature in ELT
Affect and the 'Whole Person' in ELT
Full details of all of the above workshops is available on our website.
ELT Guest Lectures
Each morning begins with a plenary lecture delivered by a prominent figure or by authors working in ELT. Some lectures will be directly relevant to classroom practice, whilst others are intended to be more theoretical and thought-provoking.
Our speakers for 2019 are:
Adrian Underhill - The Story of your Development: Sowing the seeds of an international learning community and Taking the experience back home: Group discussion, poster presentations and final plenary meeting
Edmund Dudley - I've started so I'll finish: good reasons to stick with bad books, and other lessons in resilience
Hanna Kryszewska - Visual Literacy in the ELT Class
Jon Hird - Dyslexia and Learning English: Literacy and Wider Issues
Shaun Wilden - Your exits are here, here, and here
Is the Summer Seminar for me?
The Summer Seminar is for English Language Teachers who have significant experience of teaching English as a foreign or second language to secondary school pupils, college or university students or adult learners who:
are in search of ways of improving their English proficiency who want to keep up to date with developments in the English language and in ELT
want to think about developing materials for use alongside their current course books
want to update their knowledge and their resources for teaching about Britain
are interested or involved in training ELT teachers
want to reflect on and develop their practice
Your Tutors
The University of Oxford has carefully selected an outstanding academic team by bringing together some of the top trainers and tutors in the field of ELT today.
Adrian Underhill
Edmund Dudley
Jon Hird
Hanna Kryszewska
Shaun Wilden
Sinéad Laffan
Daily Schedule
Monday to Friday:
9.15-10.45 … Lecture (Except Wednesdays)
10.45-11.15 … Tea and coffee break
11.15-12.45 … Workshops
12.45-13.45 … Lunch
14.00-15.30 … Workshops
Social Programme
Social activities will be organised for the late afternoons and/or evenings, Monday to Friday. These are likely to include: a walking tour of Oxford, a cultural exchange evening, a treasure hunt, a Shakespeare play, guest lectures, an evening of Scottish country dancing (where you do the dancing!), and much more.
ELT Publishers Book Display
During the Seminar, representatives from Oxford University Press will be present to showcase current and forthcoming ELT publications. All teachers will be offered a discount of 20% on ELT publications purchased during the Seminar.
Certification
All participants will receive a University of Oxford certificate of attendance on successful completion of the seminar.
Accommodation
Participants who choose to be resident on the programme will have a single study bedroom in Exeter College and will take meals in the college dining hall. All meals during the programme will be provided for college residents, except for lunch at weekends.
Bedrooms are located up the four to nine floors of a staircase. Bath and/or shower and toilet facilities on each staircase are shared between 4 to 5 bedrooms.
A very limited number of rooms have private bathroom facilities (shower room and toilet) and these are available for an additional fee. These rooms are allocated on a first-come first-served basis, so early application is essential.
Participants cannot be accommodated at Exeter College either prior to or beyond their programme dates. Family members and/or friends who are not enrolled on this programme cannot be accommodated in college.
Participants who choose to be non-resident on the summer school are responsible for finding their own accommodation.
Programme Fees
Residential: Standard (shared bathroom facilities) - £2,430
Fees include:
tuition; access to IT facilities; social activities;
accommodation in a standard single room with shared bathroom facilities for the nights of Sunday 28 July to Friday 9 August 2019 inclusive;
meals in hall from dinner on Sunday 28 July to breakfast on Saturday 10 August 2019 (except lunch on Saturdays and Sundays and meals during optional weekend excursions).
Residential: En suite* (private shower and toilet) - £2,620
Fees include:
tuition; access to IT facilities; social activities;
accommodation in a single en suite room with private shower and toilet for the nights of Sunday 28 July to Friday 9 August 2019 inclusive;
meals in hall from dinner on Sunday 28 July to breakfast on Saturday 10 August 2019 (except lunch on Saturdays and Sundays and meals during optional weekend excursions).
*Limited availability.
Non-residential (no accommodation) - £1,420
Fees include:
tuition; access to IT facilities; social activities;
lunch Monday to Friday, and the programme`s formal opening and closing dinners on Sunday 28 July and Friday 9 August 2019, respectively.
Applicants who are accepted on the programme are required to pay the full fee within 30 days of the invoice date. Places will not be held for applicants whose fees are not paid in full by the due date. In no circumstances will participants be admitted to the programme unless all fees have been paid in full.
To Apply
For an application form, please visit the English Language Teachers' Summer Seminar website at www.conted.ox.ac.uk/X162-2
(Please note that the closing date for applications is 20 May 2019).
More Information
For more information on any aspect of the course, please email or call us:
Email: ipteachers@conted.ox.ac.uk
Tel: +44 (0)1865 270451
« Back to School Enquire about this Course Visit School Website »