Oxford International London Greenwich

School Info

Website
Contact

Kris Hall
Principal
Address

259 Greenwich High Road, Greenwich,
London SE10 8NB,
United Kingdom
Telephone

+44-20-8293 1444
Fax

+44-20-8293 1199
QR Code
About Us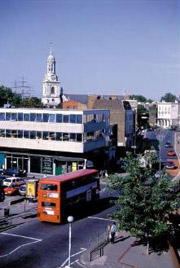 The school is in the centre of Greenwich, just a minute's walk from two train stations and only 15 minutes by train from central London. We are also a short walk from the area's most famous tourist sites such as the Royal Observatory, Maritime Museum, Royal Greenwich Park and the Cutty Sark. The school is very convenient to shops, restaurants, cafes and other attractions.
The school premises is spacious, with 17 classrooms, a large student social room (with newspapers, magazines, drinks and snacks), a self-access centre, and a large student computer room. We have just increased our student computers to 16, for use during the classtime and free internet access during breaks and after school.
Our teachers are experienced professionals, highly valued by students and the school. They are friendly, helpful and genuinely interested in the students and their progress. Our full-time support staff include a Principal, Director of Studies, Administrator and Social Programme Coordinator.
Our school is truly international and students come from all over the world: we have students from over 30 countries in South America, the Middle East, Africa, and the Far East, as well as Europe. Our average age is 23 and our minimum age is 16.
There is a maximum of 15 students per class. Usually there are around 8 students per class, but in some cases it can be as low as five or six.
UIC London Greenwich offers a social programme throughout the year, including local visits, excursions and parties for students and staff.
The school is open Monday to Friday from 08:30 to 18:00.
Contact Us
Send us an enquiry
School Enquiry
Our Courses