Globe English Centre

School Info

Website
Contact

Catherine Borgen
Director
Address

31-33 St David's Hill,
Exeter EX4 4DA,
United Kingdom
Telephone

+44-1392-271036
Fax

+44-1392-427559
Brochure
QR Code
About Us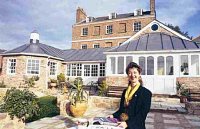 The Globe is privately owned and run by the same director since 1978. Students enjoy our small classes, interesting mix of nationalities and the friendly, personal and professional atmosphere of the Globe.
The historic Capital City of Exeter is the ideal setting for students looking for an authentic experience of the English language and way of life. Exeter has been elected Top City in England for quality of life. This is an exceptionally beautiful part of England with a gentle pace of life, friendly people and vibrant commercial and cultural activity. This splendid area, surrounded by the sea, is traditionally British people's favourite holiday destination. The warmest part of Britain, it has some of the most beautiful national parks, beaches and coastline -some classed as World Heritage by UNESCO.
Famous residents and visitors include William the Conqueror, Francis Drake, Sir Walter Raleigh, Agatha Christie, Daphne Du Maurier, Jonathan Swift, Beatrix Potter, Charles Dickens, T.E Lawrence and many more.
Direct access is easy by road, rail and air with some cheap flights to Exeter and trains just over 2 hours from London.
GOOD THINGS ABOUT GLOBE
Maximum 6 in adult classes
Year round Junior School for young people age 7 to 18
Excellent families selected by the Director
Courses for all ages and levels: Vacation, Business, Examinations, Teachers, Computing, Academic Purposes, Executive, One-to-One, Internship, Work Placements and Trials, Tailor Made and Special Interest Programmes (Marketing, Tourism, Agriculture, Secretarial, Golf, Tennis, Sailing, Horse Riding, Surfing, etc)
English for families and small children age 7 to 10 year old
English for closed groups of school children (Explorers, Discovery, Curriculum, Future Careers, English as a Second Language)
Beautiful campus with gardens and courtyards in City Centre.
2 hours from London, 20 minutes from the sea
FREE ON ALL COURSES:
Meeting service in Exeter airport, train and bus stations
Email & fast Internet
Self access Centre with assistance of Tutor
Regular testing
Teaching materials
Marking of weekly homework
Course Certificate
Assistance of Social Organiser
Placement services for accommodation, Schools, Colleges and Universities
Junior Social Programme
Contact Us
Our Courses