Hurtwood House

School Info

Website
Contact

Cosmo Jackson
Course Director
Address

Holmbury St Mary,
Dorking RH5 6NU,
United Kingdom
Telephone

+44-1483-279000
Fax

+44-1483-267586
QR Code
About Us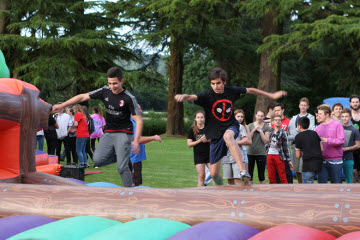 Established 45 years ago, Hurtwood House is the 'Rolls-Royce' of Summer Courses. It is expensive and will appeal to those who are seeking the highest standards in British Education. Hurtwood House is widely regarded as the best.
Hurtwood House has three core beliefs:
1. That the children who come to stay with us must receive the highest quality teaching in very small groups.
2. That they must remain safe at all times.
3. That they must have the holiday of a lifetime.
Teaching:
At Hurtwood House the emphasis is placed on fun. Bored children do not learn. Therefore we employ young, enthusiastic TEFL teachers. Lessons are lively and full of drama, role-play and debate. Classes are kept small (average 8), to ensure that each child's progress is closely monitored. Each child receives an official written report from all of their teachers every week.
Safety:
Hurtwood House places enormous emphasis on the safety of the children in its care. "We look after the children as if they were our own". Hurtwood House is an Edwardian mansion house at the heart of its own picturesque country estate, set high up in the Surrey hills in beautiful countryside, although only one hour from London. We are also only a short distance away from Heathrow and Gatwick airports.
Holiday:
Busy children are happy children. The Hurtwood House activity programme is extensive and everything is included in the price. There are no hidden costs. In an average week the children will play soccer, tennis, basketball, volleyball and squash. They also swim, rock-climb, ten-pin bowl, horse-ride and play golf. There are also excursions to the zoo, castles, the seaside and shopping in the local city and county town of Guildford. This is only in the afternoons! Evening entertainment includes laser war games, table-tennis and pool competitions, bingo, quizzes, ice-skating, broomballing, go-carting, water-slides, 'jeux sans frontieres', as well as visits to the cinema, circus and other mystery evenings. Every Friday we take the whole school shopping in London, and then after dinner we take them to see a West End show such as 'The Lion King', or 'Bombay Dreams'. Every Saturday, after a busy afternoon of sport, we have a disco, cabaret or formal dinner.
Hurtwood House is a family-run Summer School which also has the accreditation and standards of the larger, more institutional, less personal establishments. It is this unique blend of friendliness and exceptional high standards that makes Hurtwood House the most exclusive Summer School in England.
You will probably find that at Hurtwood House your children will have so much fun that they may need another holiday to recover!
Contact Us
Our Courses