University of Oxford Department for Continuing Education
Oxford Teachers' Academy Summer School
« Back to School Enquire about this Course Visit School Website »
Availability
Jan
Feb
Mar
Apr
May
Jun
Jul
Aug
Sep
Oct
Nov
Dec
Accommodation Residence
Price Range £600.00 per week - £1,200.00 per week
Price Includes Tuition , college accomodation, meals, social programme
Beginners Not for beginners
Course Length 2 weeks
Town / City & Region Oxford , South East England
Tuition Style Group
Tuition Hours Per Week 20.0
Course Type Teachers
Other Information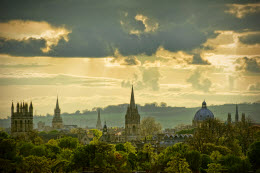 University of Oxford
Oxford English Language Teachers' Masterclass
Welcome to the Oxford English Language Teachers' Academy Masterclass offering a first class professional development experience for teachers of primary and teenage/young adult learners. This two-week programme is taught by a team of highly-experienced international trainers and aims to give you an exhilarating and enriching study experience in one of Oxford's oldest colleges.
Is the Summer Seminar for me?
The Oxford English Language Teachers' Academy is a collaboration between two of the University of Oxford's largest departments; the Department for Continuing Education and Oxford University Press. We offer many different OTA courses throughout the year all over the world and more than 2,000 English language teachers have now benefited from these unique and stimulating programmes.
The OTA Summer School provides you with the perfect opportunity to experience a professional development programme in the heart of Oxford with colleagues from all corners of the globe and has been specially designed to help you to:
refresh and revitalise your teaching strategies and techniques
update your classroom skills
integrate technology into your lessons
fine tune your language skills
Summer School Workshops and Weekly Structure
Each morning you will participate in two 90-minute workshop sessions of your choice. The workshop options for 2016 are:
Week 1: July 18-22
Engaging, Challenging and Motivating Young Learners (Primary School)
Raising the Bar: Challenging and Inspiring Teenage and Young Adult Learners
Week 2: July 25-29
21st Century Learning Skills for Primary Teachers
Engaging Teenage and Young Adult Learners: Beyond the Classroom
Expert Tutors
We have handpicked an outstanding professional team of the top trainers and tutors in the field of ELT today. Principal Tutor for the Summer School is author, trainer and international ELT consultant Robert McLarty, a leading figure in the field of teacher education.
Daily Schedule (Monday to Friday)
09.15-10.45 … Workshops
10.45-11.15 … Tea and coffee break
11.15-12.45 … Workshops
12.45-14.00 … Lunch
14.00-15.15 … Lecture (Except Tuesdays)
The programme provides 40 hours of tuition, comprising:
30 hours of workshop meetings
10 hours of lectures (8 sessions lasting approximately 75 minutes each)
Social Programme
We have carefully tailored your social programme to allow you plenty of free time to explore and enjoy Oxford. You will also benefit from the services of two summer school assistants who will be on hand to offer information as to what's on and what to see in Oxford and also to help with advice on any weekend trips you may be planning to make.
We have arranged a number of optional social activities each evening during your course which may include:
a walking tour of Oxford
a cultural exchange evening
an open-air Shakespeare play
a treasure hunt
an evening of Scottish country dancing (where you do the dancing!)
In the evenings, you will be welcome to socialise in the college bar which will be open several nights each week.
OUP Book Display
During the summer school, representatives from Oxford University Press will be present to showcase current and forthcoming ELT publications. All teachers will be offered a discount of 20% on OUP's ELT publications purchased during the summer school.
Entry Requirements
We ask that applicants are qualified teachers who have experience of teaching English to primary or teenage/young adult learners.
Certification
On successful completion of the Summer School, all participants will receive a University of Oxford Certificate of Attendance.
Accommodation
For that real University of Oxford experience, you'll have the opportunity to live in student accommodation in Worcester College. The college is situated in the centre of Oxford only a few streets away from the bustling shopping area of Cornmarket and High Street and is also close to the Ashmolean Museum and Oxford Railway and Coach Stations. If you choose to live in college you will have a single study bedroom with private bathroom and toilet.
Participants cannot be accommodated at Worcester College either prior to or beyond their programme dates. Family members and/or friends who are not enrolled on this programme cannot be accommodated in college.
Participants who choose to be non-resident on the summer school are responsible for finding their own accommodation
Programme Fees
Resident in College - £2,400
Fees include:
tuition; all course materials; social activities;
accommodation in a single en suite room with private shower and toilet for the nights of Sunday 17 July to Friday 29 July 2016 inclusive;
meals in hall from dinner on Sunday 17 July to breakfast on Saturday 30 July 2016 (with the exception of weekend lunches and dinner on Saturday).
Non-residential (no accommodation) - £1,200
Fees include:
tuition; all course materials; social activities;
lunch Monday to Friday, and the programme`s formal opening and closing dinners on Sunday 17 July and Friday 29 July 2016, respectively.
Applicants who are accepted on the programme are required to pay the full fee within 30 days of the invoice date. Places will not be held for applicants whose fees are not paid in full by the due date. In no circumstances will participants be admitted to the programme unless all fees have been paid in full.
Apply
For an application form, please visit the Oxford Teachers' Academy Summer School website at www.conted.ox.ac.uk/X162-3
More Information
For more information on any aspect of the course, please email or call us:
Email: ipota@conted.ox.ac.uk
Tel: +44 (0)1865 280360
« Back to School Enquire about this Course Visit School Website »