Leeds Language College

School Info

Website
Contact

Adam Priestley
Principal
Address

Aquis House, 12 Greek Street,
Leeds LS1 5RU,
United Kingdom
Telephone

+44 (0) 113 242 75 34
Brochure
QR Code
About Us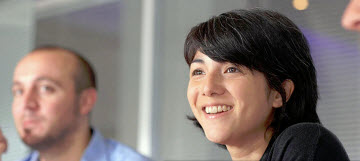 Leeds Language College Ltd. is located in the centre of Leeds, which is one of England's biggest cities, based in the North East of England. We are within easy reach of public transport, shops and a wide range of cultural, social and educational facilities.
Leeds Language College Ltd. is a UKVI TIER 4 Licensed Visa Sponsor. We are accredited by ISI-The Independent Schools Inspectorate (as required by UKVI), and have been rated as exceeding expectations, providing outstanding teaching and excellent welfare, health and safety support.
Leeds Language College Ltd. is also accredited by the British Council Accreditation Scheme. Leeds Language College Ltd. is a member of English UK. As a provider of international examinations, we are an official Examination Centre for Cambridge ESOL and also an examination centre for Trinity College London.
At Leeds Language College you can study a wide range of courses with a flexible timetable at a competitive price. You can study a General English Course (from beginner to proficiency level) or an Exam Course including IELTS, FCE, CAE and CPE. We also offer one to one courses, Business English and English for Academic Purposes. Intensive speaking practice helps boost our students' confidence. Our qualified and professional teachers will assist you with your studies.
We have a friendly and open approach with our students and we understand that no two learners are the same. We aim to cater for these differences within our groups with a flexible and adaptable approach that allows us to assist each person in a way suited to them. We aim to provide our students with an experience that will motivate them to take ownership of their learning and to encourage them to engage in academic and social discourse as a pleasurable experience
We offer a wide range of courses with a flexible 15, 20 or more hours per week:
8:45am - 11:55am
12:20pm - 3:30pm
3:30pm - 6:40pm
6:45pm - 8:45pm
We organise regular social and cultural activities for our students.
Some activities like museum and art gallery visits take place during lessons and are part of the course programme. Others take place after class or on designated college trip days.
Website: www.leedslanguagecollege.com
Registered in England and Wales. Company number: 6004218 Accredited by the British Council UKVI TIER 4 LICENSED VISA SPONSOR
Contact Us
Our Courses