LSI London Hampstead

School Info

Website
Contact

Rob O'Halloran
EFL School Director
Address

13 Lyndhurst Terrace,
London NW3 5QA,
United Kingdom
Telephone

+44 (0)20 7794 8111
About Us
Language Studies International - LSI London Hampstead

The Location
A beautiful area to explore, charming Hampstead village has been home to many famous celebrities, writers and artists for years. Here you can visit the Freud Museum and the house of the poet, John Keats. Hampstead Heath, nearly 800 acres of countryside is only a few minutes' walk from the school. Hampstead is one of London's best kept secrets!
The School
Located in a residential area just 3 miles from the centre, students benefit from nearby accommodation options and easy access to London's famous sights. The school occupies a spacious Victorian building with free wireless internet, a beautiful garden, language laboratory, table-tennis room, a lounge and a library with a wide variety of audio-visual study resources.
Why LSI?
Language training experts since 1965
Language schools all over the world and UK
UK centres: Brighton, Cambridge, London Central, London Hampstead
City centre locations
The latest technology in language learning
123 different student nationalities
Courses for groups and individuals

Courses
LSI London Hampstead offers general English classses, exam preparation classes for TOEFL/TOEIC/IELTS and the Cambridge ESOL exams, one-to-one classes, Business English and winter and summer Junior courses.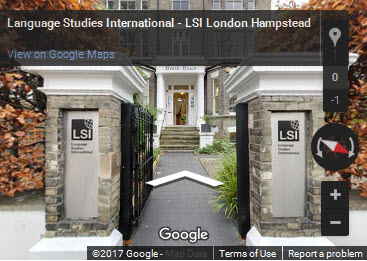 Contact Us
Our Courses